Kampanjerente på leasing i oktober. Les mer her »
Jamax is a Norwegian-made scaffolding system that has been on the market for a number of years with users all over the country. More than 40 years of experience have made us the country's leading manufacturer and supplier of scaffolding. Local production means that we have scaffolding in stock at all times. We can therefore offer immediate delivery from our warehouse to the whole country.
Jamax Scaffolding package 82,5 m2

Perfect scaffolding package for the professional user. The package is delivered complete in accordance with the current scaffolding regulations.
Jamax Homeowner's package 1 (21 m2)

This is a perfect starter package for those who doesn't have any scaffolding from before! Can be built as one of the options in the illustration.

Jamax Homeowner's package 3 (49,5 m2)

This is the largest of our Homeowner's packages. A great package that covers a large work area. Can be built as one of the options in the illustration.

Jamax add-on package 1-2

With this package, you get alle the needed parts to upgrade/extend a Homeowner's package 1 to a Homeowner's package 2.

Jamax add-on package 2-3

With this package, you get alle the needed parts to upgrade/extend a Homeowner's package 2 to a Homeowner's package 3.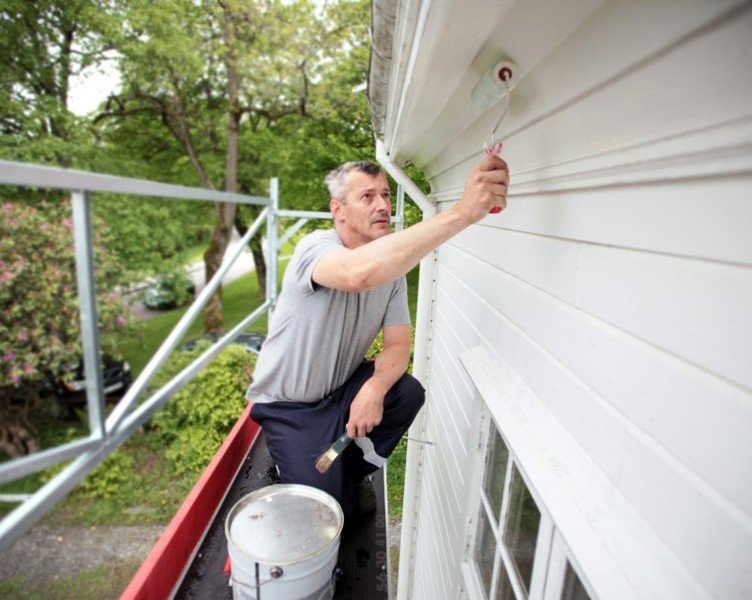 Choose the right scaffolding:
Higher usability and efficiency
The right equipment is half the job, it is said. If you are going to work at height, there is one type of equipment that is more important than anything else - the right scaffolding.
Os Marina er en fornøyd bruker av Alutec sine tjenester. De har levert kvalitetsprodukter til oss, og de har vist at de er til å stole på. At de er en lokal leverandør er også et stort pluss.
Os Marina,
5210 Os
Da vi i Hordvikhavn Båtlag skulle bytte ut havneanlegget vårt som har tjenestegjort i opp mot 40 år, var Alutec en selvsagt leverandør å forespørre om jobben. Anlegget vi hadde kom derfra og lokal tilhørighet har vært en stor fordel i alle disse årene. Reservedeler har aldri vært et problem og noe slitasje må man forvente. Når de også var veldig konkurransedyktig på pris ble valget enkelt for oss. Utlegging og kommunikasjon under prosessen med jobben har vært veldig god og arbeidet ble gjort til avtalt tid selv med utfordringene i denne korona-tiden. Vi har fått et fantastisk nytt anlegg …
Hordvikhavn Båtlag,
5108 Hordvik
Jeg har både stillashenger, som jeg bruker til småjobber som tilbygg, og en Simply inclined lift. Liften har jeg brukt til takomlegging i en svær bygård, ombygging av leiligheter der jeg har fraktet søppel og materiale inn og ut fra vinduer, og jeg har også leid den ut. Det fine er at jeg kan kjøre opp langs fasaden med liften, kommer helt inntil veggen og opp på taket (inntil 22 m). Den er kjempefin, lett å sett opp og bruke. Angrer ikke på at jeg kjøpte den!
Rbbygg AS,
0668 Oslo
Vi er kjempefornøyde med Simply Inclined lift som vi bruker mye til å frakte utstyr og materiale – primært på taktekkingsjobber. Det har vært en veldig bra opplevelse å handle med Alutec. De svarer fort på mailer, er hyggelige å prate med og gir god service.
Total Byggservice AS,
8150 Ørnes
Vi er fornøyde med våre fem superlifter som er i bruk så å si kontinuerlig. De er enkle å flytte, montere og demontere og alle delene er lette å løfte på med håndmakt hvis man er 2-3 personer. Vi bruker heisene mest til å frakte teglstein når vi jobber på fasader. Det har fungert veldig bra å handle med Alutec, de kommer med bra tilbud og følger godt opp!
Tveiten & Riis Murmesterfirma AS,
3229 Sandefjord
Jeg har hatt glede med å ta i bruk Huspakke 1 i dag og ble fasinert av teknologien som var tatt i bruk og gitt et sikkert og lettbetjent verktøy for boligvedlikehold. Opplevelsen ble bedre, og det var lett å komme i gang. Pakken kom samtidig med godværet, godt emballert og instruksmaterialet gjorde hele opplevelsen mer innholdsrik enn forventet. Det var moro å komme i gang med arbeidet, også å vite at hjelpen ikke er langt unna, når behovet melder seg.
Ole H Liavik,
huseier, 3531 Krokkleiva
Jamax - Norway's best-selling scaffolding system
Sorry, we couldn't find any posts. Please try a different search.
Frequently Asked Questions